Respectability • Exposure • Networking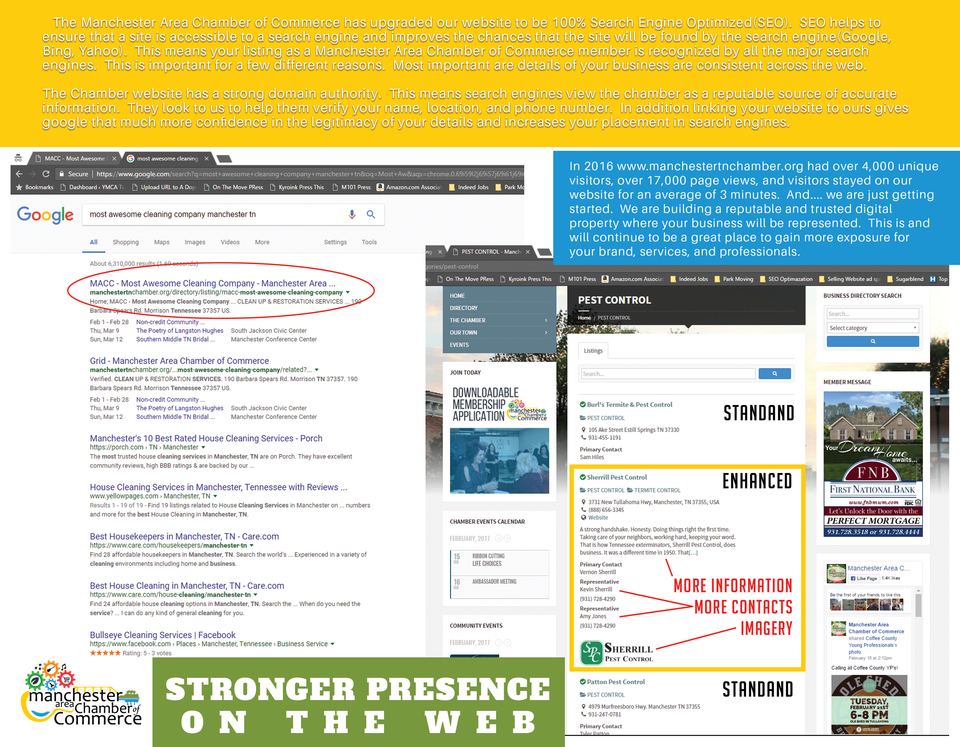 Membership Sponsorship – high visibility is offered to members who sponsor Chamber events. As an event sponsor, your name is displayed and promoted giving broad exposure for your products and services. Chamber Events include our Annual Installation Banquet, the Industry Appreciation Golf Tournament, General Membership Luncheons, Ribbon Cuttings, After Hours, Mixers, and Grand Openings.

Internet – All Chamber members receive a complimentary listing and link to their business website through the Chamber's website. All Chamber members are promoted on the Chamber's website, Facebook and Twitter.  Weekly News Blast – listing all new members, highlighting opportunities and activities relating to the community and the Chamber. The newsblast provides FREE advertising for our members, emailed to over 300 Businesses and Political Leaders.
As a Chamber member, the public automatically views you as a long-term legitimate, reliable, respectable business which supports our community, its organizations and its quality of life.

Second, we offer you the exposure you cannot get elsewhere – the chance to sponsor one of our many events, be featured on our website or in our publications, honoured and introduced at community functions.

Third, we offer you multiple networking opportunities through our social and networking events, through board or committee service and the many other volunteering opportunities that will connect you with a huge pool of potential customers.

Chambers of Commerce are essential to the economic growth of our communities; through making introductions, facilitating projects, maintaining data on the areas served and their economic climates and keeping abreast of pending development projects.  The more involved you are the more your Chamber Benefits work for you.
Ribbon Cuttings, Grand Openings/Groundbreakings – members receive assistance from the Chamber staff in planning their special events. We supply mailing lists (first time free, additional lists at a small fee), ceremonial scissors and ribbon.  We also highlight the event in our news blast, at the monthly membership meetings, and on our website, Facebook and Twitter.

Membership Decal and Certificate – you will receive a chamber member decal and certificate to display, showing your customers and clients that you are proud to be a member of The Manchester Chamber of Commerce and dedicated to the economic growth of Manchester.
Leave a Reply
Your email address will not be published. Required fields are marked*